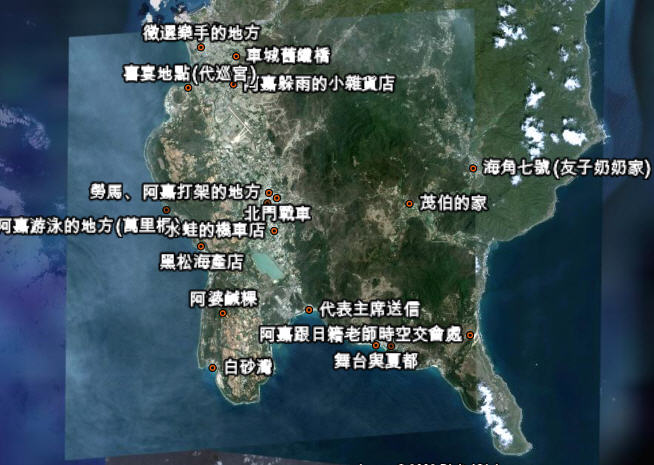 [press this map to enter the Browser]
I have a friend living in Buenos Aires, Cai Shifang. I asked him to help me the translation into a foreign language. He translated the article into Spanish because his Spanish is better than English .Therefore, I use Spanish to show this article as below.
Mis hijos me recomendaron la película (El cabo #7), pero no tenía mucha gana de verla.
Cambié la idea cuando Louis me acordó que yo pedía poner "El cabo #7" en GE con quién encontramos en la compañía de Google en Taiwán hace unos días atrás. Salí temprano de casa el día siguiente para ir a ver la película. Pensé que la primera función podría tener menos gente pero cuando llegué al cine a las 9 y 50 ya había una larga cola. La mayoría de los espectadores eran de mi edad (de los 50 años para arriba). Por fin conseguí la entrada para la tercera.
Durante 2 horas y 20 minutos de la película no cedía la risa de los espectadores. Hace mucho tiempo no veía una similar que me emocionó tanto. ¡Excelente! Les re-recomiendo.
Saber el lugar de filmación de la película no es tan fácil como mostrar la locación de interés en GE. Encontré bastante información acerca de la película buscando en Google. Por ejemplo Sitio de WikiGPS localizó varios puntos de filmación. Pero solo decir los lugares no es tan atractivo como ilustrarlo con imágenes. Al final entré "El Blog oficial de la película" que tiene muchos clips. Junté 12 de ellos e hice esta página para compartir con ustedes.
Si quiere navegar "El cabo #7" en GE, puede bajar aquí. En el archivo puse 5 videos cortos de Youtube más aerofotos de Chi y 3 moldes de Jim Hsu. También es interesante visitar "Parque Nacional Keng-Din".