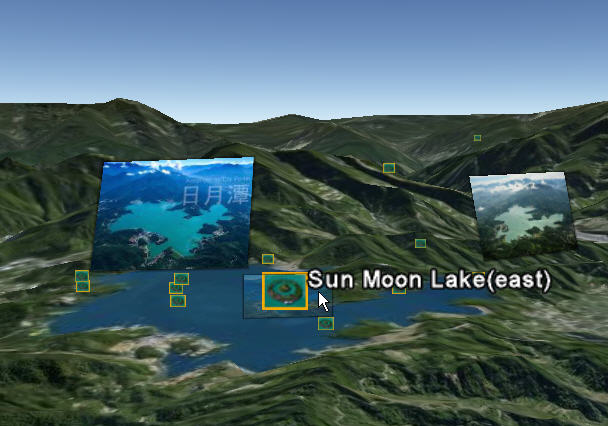 [press above image to enter web page]
Sun Moon Lake is located in the center of Taiwan and is the island's largest lake. It is a beautiful alpine lake, divided by the tiny Lalu Island; the eastern part of the lake is round like the sun and the western side is shaped like a crescent moon, hence the name "Sun Moon Lake".
In my article posted in July "aeroFoto Formosa in Google Earth in a browser", I showed Taiwanese aero photographer chi's pictures in Google Earth Browser Plugin. In recent days, I find PhotoOverlay can be displayed by plugin as well. Therefore I give it a try with 22 Sun-moon Lake pictures.
Although Browser Plugin shows PhotoOverlay, the API functionality is not complete. For instance, "zooming bar" and "close" of controller on top right corner don't work. Fortunatelly, I can zoom with mouse wheel. But I have to figure out another way to close photo viewer. I add a placemark file so that you can entre Snapshot View of the placemark and close photo viewer. Then you are able to fly to spots one by one with left hand side placemarks. Double click the icon on the centre of screen to entre PhotoOverlay mode. Thereafter you can zoom with your mouse wheel and fly to another aero-photo by the pervious operation.