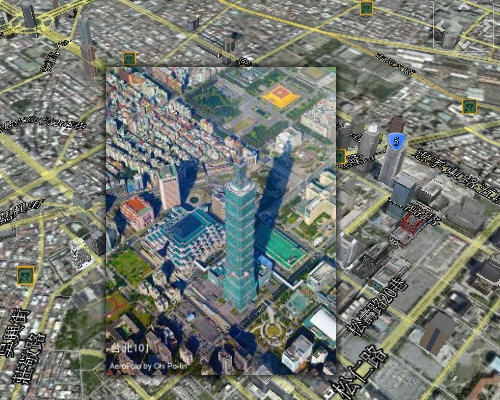 <press above image to enter web page>
In 2008 I posted "aeroFoto Formosa in Google Earth in a browser". I showed about 300 aerial photographs (shot from any angle) in Google Earth. Unfortunately, there was no PhotoOverlay function in Google Earth Plugin then, so I just show those photos by picture. But now PhotoOverlay function is working in Google Earth Plugin. I think these photos are placed in the actual shooting location in Google Earth is the best virtual reality.
Po-lin Chi, the best aerial photographer in Taiwan, I introduced him in this post "The Sky of Taipei", will be held in Taipei from June 1 this year, a six-month exhibition. In order to promote environmental education in Taiwan, this exhibition will show Chi's aerial photographs and videos over the years. Wanting to make everyone a change in height and vision, re-understanding the issues of common concern for Environment and Development.
I also participate in the exhibition. I show his photos in Google Earth in my way. This time I make almost 600 photos in Google Earth. And from these photos I make five themes (hakaa villages, SunMoon Lake, Ponghu Islands, mountains, and estuary). I show these theme photos by automatic flyover.
I had thought to bring these photos into Google Earth Gallery (Chi agree). I have seen the google "Map Content Partners project". But I have not seen Google Earth show aerial photographs by PhotoOverlay function in Google Earth. So I can not imagine Google Earth how to deal with, maybe as a general photo? That's why I hesitate to go ahead.