The Pratas or Dongsha Islands are an atoll in the northeastern South China Sea consisting of three islets about 340 kilometers (211 mi) southeast of Hong Kong. Excluding their associated EEZ and territorial waters, the islets comprise about 2.4 km2 (0.93 sq mi), including 0.64 km2 (0.25 sq mi) of lagoon area. The islands are claimed by the People's Republic of China, but controlled by the Republic of China (Taiwan) and organized as a national park. The main island of the group—Dongsha Island—is the largest of the South China Sea Islands.
2011 summer, I had a chance to Dongsha two days, I took the time to take more than 280 panorama imagery by my own way without tripod. Now I make the Streetview web page to show them.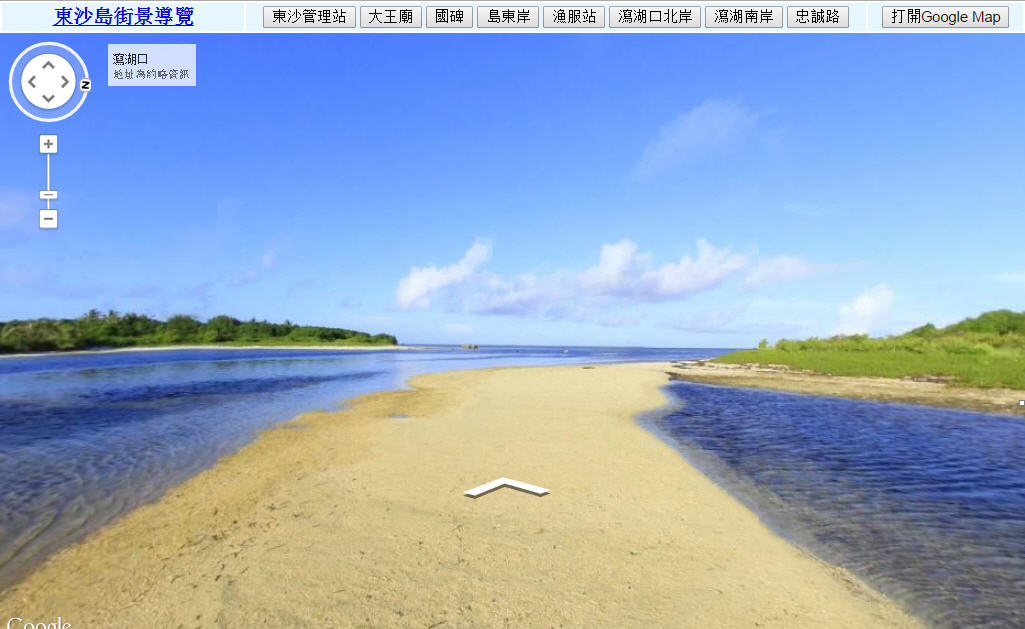 According to the two days memory, I made a Google Earth Dongsha tour. I chose a piece of music, with the ups and downs of the music, at first, show the maps and text to illustrate the Dongsha location, then fly over Dongsha Atoll until Dongsha Island, next scene, simulate C-130 transport aircraft fly to Dongsha Island Airport, then start Donsha Islanad day, early in the morning watching the Dongsha sunrise in the east side of the beach, and then explore the "South China Sea barrier" monument, visit Dongsha Dawang Temple, visit Marine National Park Dongsha station, in the evening watching the sunset in the lagoon. Finally, lying on the quiet and no interference Dongsha airport runway, watching the 180 ° viewing angle and ultra broadband, most shocking Dongsha stars.
Due to Google has announced the deprecation of the Google Earth API, It's really sad. Before I find the way to migration,I decided not to use the website to present this work. You can downloading this KMZ file

, and operate in Google Earth.
In this tour, there are two scenes(sunrise and sunset) that I use photorealistic atmosphere function. So, after arriving Donsha airport, the tour pause, and an instruction to ask everyone enable photorealistic atmosphere. According to the instruction, you go to [Tools] –> [Options] –> "Use photorealistic atmosphere rendering", and then press ► to continue this tour. After this tour, remember to unenable the photorealistic atmosphere to default value.