UPDATE: He did it! Jurek set a new supported speed record on the AppalachianTrail (AT) finishing in 46 days, 8 hours, and 7 minutes.
I am a fan of Scott Jurek after I read the book "Born to Run" in 2010. In this book they discuss "the greatest race", a 47 Km ultramarathon held in Copper Canyon (in southwestern Chihuahua, Mexico). However, in all of the book's discussion of the race, no map or visuals are provided. Using the book and Google Earth, I built a "virtual tour of the route" then.
This May 27 through Facebook he published: "Embarking on a big adventure tomorrow, something I've always wanted to do. The time is now!".

After I followed several days, since the DeLorme 2D map in his FB really can not find the actual position, I decided to use my way. At first, I made a 3500km Google Earth 3D tour. I use Scott's icon as runner, along Appalachian trails forward, every one hundred kilometers milestone will display. You can download this KMZ file

or watch on youtube as above.
Then, I made a web page to show Scott's footprints. I suggest that you use the Chrome browser, although Chrome no longer supports Google Earth Plugin by the end of 2014, but before closed, Google Earth Plugin is still the world's best 3D presentation.
Now You can press below image to enter web page, but when enter the web page, maybe you can't see Google Earth, it is because Chrome drops support for NPAPI plugins by default. It is still possible to get them back is via a Chrome flag.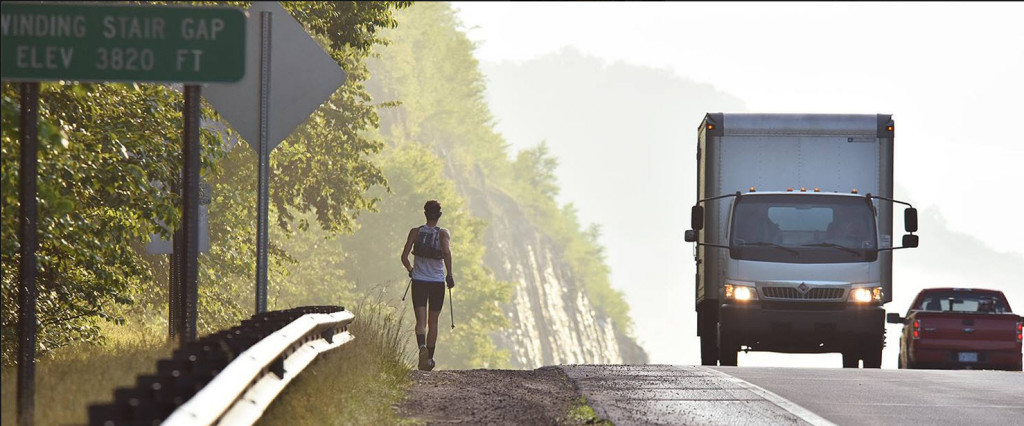 [GEB reports]
A Google Earth tour of Scott Jurek running the Appalachian Trail